Enjoy our selection from the bar, available to purchase from by all patrons regardless of booking.
But - don't forget to peruse your own host's special menu as well...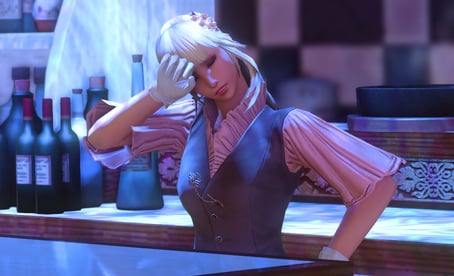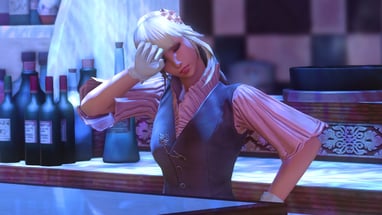 Free food and drink for all!
300,000 per hour • 500,000 for the entire night
Look at you, big spender! If you want to buy something that will surely impress, treat the establishment to a drink. We shall shout and sing your praises forevermore - or more truthfully, the alotted buyout period.
Emet's Select
Champagne Bucket
An ever-changing selection of only the best, and most unique wines of Etheirys, chosen by our most Eminent Emet-Selch.
Certain to please, never to bore.
This mysterious blend is said to stir the very depths of the soul. Whatever other-worldly ingredients it's made of remain a mystery, but the very liquid's colour changes with the emotions of the room. 10 ⨯ Realm Reborn Red
30,000 gil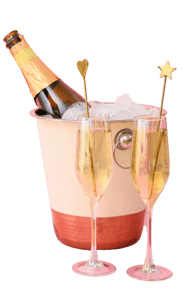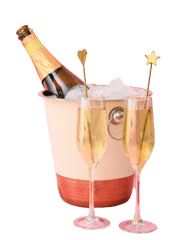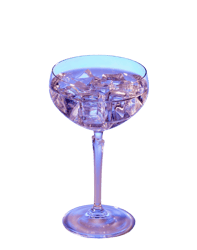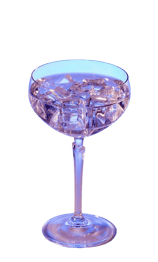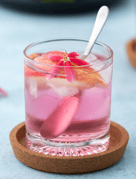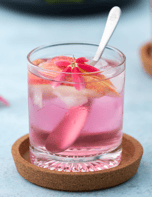 Little Ladies' Peachy Surprise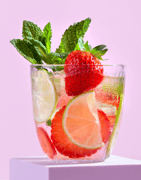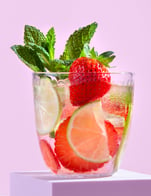 Perfectly sweet and tart, this refreshment is made from garden-fresh rolanberries and limes, topped with aromatic mint leaves that might even draw the attention of the ever-playful pixies from Il Mheg.
Pixieberry Tea • 5,000 gil
Reminiscent of the blooming peach trees of Little Ladies' Day, this refreshing beverage was made from the sweet nectar of ripe peaches infused with the far eastern taste of Doman tea.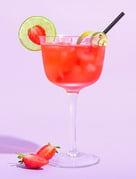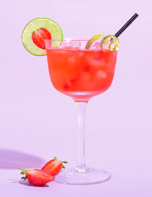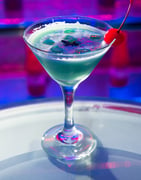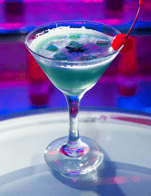 A mystical beverage prepared from ambrosial water and berkanan sap, along with a few drops of Aleport bitters and...a mystery ingredient only privy to Master Matoya herself.
Happiness Juice • 8,000 gil
Craftsmans' Draught • 10,000 gil
A revitalising concoction made with sweetened carrot juice combined with syrup made from ripe rolanberries and tangy La Noscean oranges, all garnished with refreshing spearmint to "verraise" the senses.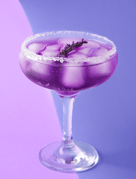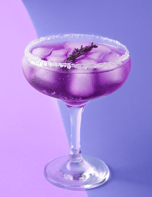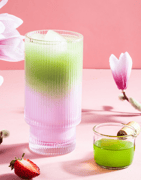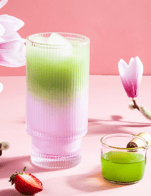 Iced Matcha-Rolanberry Latte
Vibrant, ceremonial-grade matcha is lightly sweetened and stirred into ice-cold ovibos milk, then carefully layered over silky pink rolanberry cream. Garnished with a rolanberry "rose."
Purple Carrot Juice • 14,000 gil
Reminiscent of the Darkness within, this mysterious cocktail combines the smooth, sugary pulp of lowland grapes with the nectar of pixie apples brewed together with aged Lowland white wine. One sip will lead you to pure bliss, and...perhaps a craving for the days of eld.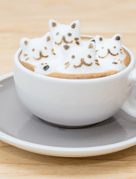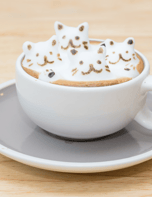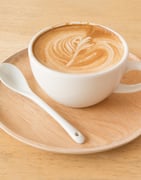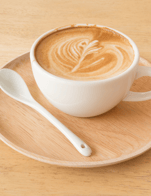 A double shot of espresso blended with pumpkin puree, with added warmth from turmeric, ginger, and clove. Oat milk foam is poured into the shape of a heart and dusted with cinnamon sugar.
Espresso con Panna • 6,000 gil
Roasted tea leaves are gently simmered to bring out nutty, toasted flavours, lightly sweetened with house-made persimmon syrup. Topped with generous dollops of frothed ovibos milk, painted with cocoa to resemble tiny moogle faces.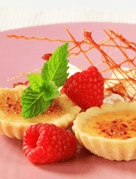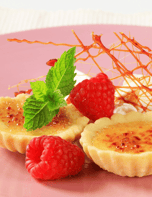 Caramelised 'Little Suns'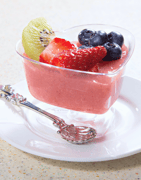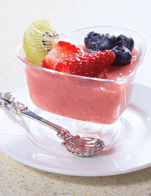 Azim Strawberries with fine palm sugar, stewed into a sugary compote and transformed into a delicate gelatin topped with lush rolanberries and delectably firm O'Ghomoro berries.
Jellied Compote • 8,000 gil
Delectable bite-sized custards decorated with sweet hardened caramel and tart raspberries. The surface of these delicacies are torched to perfection, much like what a certain sharp-tongued Miqo'te did to an unfortunate Au Ra in search of his Nhaama.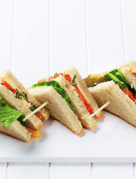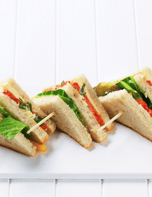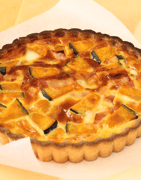 Ishgardian Verdant Fromage
A savoury pie made from finely chopped verdant mist spinach, soft Ishgardian mozzarella infused with Coerthan spices, and heavy cream made from yak milk. This dish is then cooked in a pie crust and smooth butter, and baked till golden brown perfection.
Finger Sandwich • 10,000 gil
Mist Spinach Quiché • 10,000 gil
A trio of dainty sandwiches suitable for high tea, cut into crustless triangles. Consisting of one cucumber and cream cheese; one apple, prosciutto and cheese; and one smoked salmon with aioli and peppers.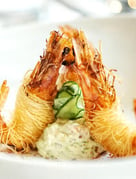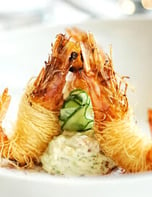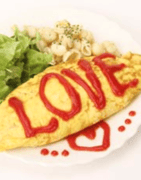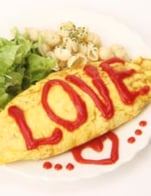 An omelette made of the finest eggs, plucked from the nest of the world-renowned Red Comet Chocobo. Enough to make even the Warrior of Light cower at the knees. But for you, it is served with love, and your name upon it as a token of our appreciation.
Tempura Platter • 12,000 gil
Apkallu Omelette • 20,000 gil
A selection of fresh seafood and vegetables fried in a delicately crisp, light-as-air batter. Our current assortment includes blue crab legs, Ruby shrimp and calamari, asparagus, zucchini, and sweet popoto. Served with grated daikon and savory-sweet tentsuyu sauce for dipping.